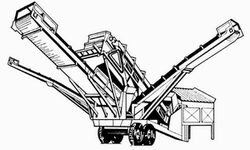 ---
INTRODUCTION
SCREENING & EARTHWORKS (PTY)ltd Has, since its inception in 1995, expanded its role to become a major contractor and is subsequently recognised as the leading "SOLUTIONS PROVIDER" in MOBILE CRUSHING & SCREENING, recycling and mineral processing industries in South Africa. During this phase the Company has shown constant growth despite periods of adverse economic conditions and increased competitive activity.
The Company's success is attributed to three main factors.
1) SUPERIOR QUALITY OF THE EQUIPMENT AND ITS TECHNICAL CAPABILITIES.
2) THE LOYALTY AND DEDICATION OF THE "SCREENING & EARTHWORKS" TEAM.
3) THE EQUIPMENT IS REGULARLY UPGRADED AT AN ENORMOUS COST IN ORDER TO COPE WITH THE INCREASED DEMAND FOR MOBILE CRUSHING AND SCREENING - A DEMAND THAT HAS TREBLED SINCE THE COMPANY'S INCEPTION.
NOT ONLY DO WE PLACE A PREMIUM ON SAFETY, TECHNOLOGY AND RELIABILITY, BUT ALSO ON OUR ABILITY TO CONTRACT FOR ANY CRUSHING AND/OR SCREENING OPERATION
THE OLDER EQUIPMENT HAS MADE WAY FOR THE NEW, UPGRADED SELF-PROPELLED CRUSHING AND SCREENING PLANTS.
SCREENING & EARTHWORKS' AIM.
SCREENING & EARTHWORKS, AS A CONTRACTOR, IS DEDICATED TO:
1) PROVIDING CLEAR MARKET LEADERSHIP TO THE QUARRYING AND ALLIED INDUSTRIES.
2) MEETING THE CLIENT'S SPECIFIC NEEDS BY RAISING ITS CUSTOMER SERVICE TO THE HIGHEST LEVEL.